Show Your Materials: Let's Come Clean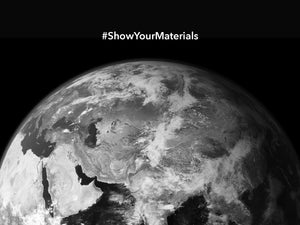 Materials used in clothing, shoes, and home textiles can affect the health of people and the planet. We know it takes collaboration to create change for the better. That's why MATE is coming clean with #ShowYourMaterials, a movement we started to drive more transparency across industries.
What's the Difference Between Corporate Responsibility and Greenwashing? Accountability and Transparency
We had a wild idea to create a movement to increase transparency and accountability in the fashion industry. We started with a problem…
We knew that materials used in clothing, footwear, and home textiles are driving climate change and impacting the health of people around the globe. By some estimates 38% of fashion's total carbon footprint can be attributed to materials(1). But brands often did not disclose their total material portfolios and share which materials they used the most to make their product.
38% of fashion's total carbon footprint can be attributed to materials.
That's Why We Think It's High Time All Companies #ShowYourMaterials
We partnered with brands that are willing to be transparent and find value in this project. Together we are hoping to encourage more brands to show what they are made of.
Participating brands include Parachute, Aday, Solly Baby, Thousand Fell, and Whimsy + Row.
So What Are We Actually Doing?
Brands will show the materials used to make their products over the last 12 months, then honestly communicate what materials they are proud of and which they are looking to transition away from in an Instagram post, pretty simple. Take a look at MATE's breakdown below.
We Feel That This Exercise in Transparency Is an Easy First Step for All Brands to Make Towards a More Responsible Business Model.

We need the community's help to make this work. Our hope is to support other brands in their journeys, whether that be taking first steps or evolving where they are today. We think this exercise in transparency will create change for the better. 
Want to Get Involved in the Movement?
If you think it is important for brands to #ShowYourMaterials, share the last slide of our Instagram post to your story and tag the brands you love to join this movement, or tag them in the comments on our Instagram post.

If you are a brand that would like to join this movement and #ShowYourMaterials, email sustainability@matethelabel.com and we will be in touch.
We think doing better together will always be more impactful than marching alone.
Sources: