Kayti's Postpartum Toolkit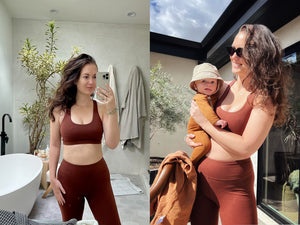 MATE's Founder, CEO and new momma, Kayti O'Connell Carr, shares her postpartum toolkit; the support system and comfort essentials she couldn't live without immediately following the birth of her first child, Ever.
"I'm eternally grateful for the circle of women that supported me immediately following birth. Nothing can prepare you for the first six weeks postpartum — the sleep deprivation, extreme hormonal shifts, and physical recovery are a lot to process. I recognize that being able to enlist any of these resources is a steep privilege, and we must do better as a culture to prioritize supporting postpartum women."
Kayti's Support System
Lei Love (LA)
Aleila is an Ayurvedic postpartum doula who focuses on abhyanga massage and nurturing meals like kitchari. She came to my home 2x/week and was incredibly supportive physically and mentally.
Motherbees (LA + national shipping)
Yummy, nutritious, and grounding meals delivered. Nuff said.
Well Lived Woman (online)
Jaimi facilitates a weekly women's support group that meets online. I met lovely women at all stages of life. Most were mamas who offered a lot of sound advice during the first year postpartum.
Mysha Pods (LA + online)
A membership only mamas group where 70% of the moms are c-suite/founder types. Highly recommended for mompreneurs. Doing it all requires an insane amount of support.
UMA Mother (LA + online)
Patti is an earth angel and was my birth doula. Although this is focused on postpartum, I highly recommend checking out her offerings. 
Kirsten offers birth portal closing ceremonies. I haven't had the chance to do one yet, but it looks very impactful as birth is inherently traumatizing and important to process.
Kayti's Comfort Essentials
Our New Tencel Rib Dress + Set
I lived in Tencel during pregnancy and continue to do so postpartum. Excited to now offer items that are perfect for pregnancy and postpartum. Fave MATE Tencel Rib styles here, and here. 
"I lived in Tencel during pregnancy and continue to do so postpartum."
These nursing tanks make it so easy to whip 'em out and feed on the go.
As my body was healing, I found my pregnancy pillow to be just as helpful during the first few postpartum months.
Beekeeper's Naturals Superfood Honey
Starting my day with a spoonful of this honey just made me feel like a queen bee.
Flamingo Estate CSA (LA)
I have yet to sign up for this IG swoon fest of a CSA box, but plan to do so soon. FE, sponsor me. 🙏
Read this during your 3rd trimester. Once the baby comes, all the focus goes towards the baby and not the mama. You'll want to create boundaries and learn how to create your own postpartum cocoon.
The female body is incredible. These meditations helped guide me as I worked on rebuilding a strong pelvic floor after birth.
Shop Kayti's Fave MATE Styles here. Have a postpartum question for Kayti or looking for more resources? DM her at @kayti_ocarr.