International Women's Day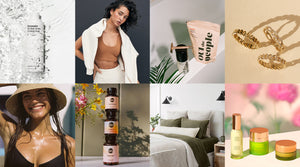 In honor of International Women's Month, we're asking some of our favorite female-founded brands what International Women's Day means to them.
MATE the Label
"After recently becoming a new mom, I have a whole new perspective on how strong women are and how often this unparalleled strength goes unrecognized. IWD is a day to celebrate the women of our past, present, and future who have endured and persevered through so much and will continue to do so for future generations. I am forever inspired by women collectively coming together to forge a world that is equitable, inclusive, and empowered to take action" - Kayti O'Connell Carr, Founder & Creative Director.
Tata Harper
"We owe it all to our community of empowering women for being able to share our love of green skincare with the world. To honor that community, International Women's Day allows us the chance to celebrate together with all the women-led brands that continue to inspire us all to pursue our passions" - Tata Harper, Founder.
Oui the People
"At this stage of my life, IWD is an acknowledgement that we, women, are on a shared path and a sense of pride that I will have an impact on the women who come after me, and the opportunities they'll have" - Karen Young, Founder.
Vitamin A
"This year's IWD focus is "gender equality today for a sustainable tomorrow," recognizing the contribution of women around the world who are leading the charge on climate change adaptation, mitigation, and response. To me, IWD means supporting and nurturing those women and their efforts through our commitment to sustainability at Vitamin A, and celebrating feminine energy, spirit, and strength in everything that we do." - Amahlia Stevens, Founder & Chief Creative Officer.
Aurate
"It means raising awareness about women's equality and getting to the point where we're celebrating women and their accomplishments every single day of the year–not just on IWD." - Bouchra Ezzahraoui, Co-Founder & Co-CEO of Aurate.
"I am hoping that, eventually, we will not have to have an IWD since we will all actually be equal. Only then can we truly maximize our full potential as a species and make magic happen, whether it's related to empowerment, sustainability, or innovation." - Sophie Kahn, Co-Founder & Co-CEO of Aurate.
The Citizenry
"Today is about celebrating the women behind our designs - from the women who lead our teams in the U.S. to the artisans around the world that bring them to life. It's such a beautiful collaboration across countries and cultures and an example of women supporting women around the world." - Rachel Bentley, Co-Founder
"It's a day to honor the power of women and our commitment to keep going. For me, IWD is both a time to shine a spotlight on the inspirational stories of how far we've come and a call to action to continue to push for changes needed to make full equality of opportunity around the world possible." - Carly Nance, Co-Founder
Nécessaire
"To me, International Women's Day stands as a celebration of all women and as a reminder of our shared progress and the many women that came before us to pave a better path. I am a daughter, a sister (to a sister), a mother of three young women and a female founder in a category that engages deeply with women. It is a privilege." — Randi Christiansen, Co-Founder and CEO