Clean & Cozy: Organic Knits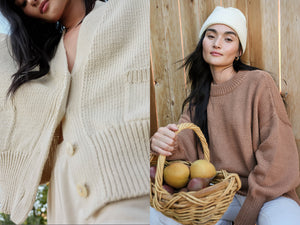 When creating our Organic Knit Sweater collection, we stepped outside of our comfort zone and decided to partner with a factory in Peru. While this is different from our usual 100% based in Los Angeles manufacturing, we wouldn't have been able to deliver such a thoughtfully made collection of knits without doing so.
We really wanted to get this one right. We're thrilled to introduce our first-ever Organic Knit Sweater collection: Low waste, 100% Organic, ethically produced, and of the highest quality. 
Low Waste
Our New Organic Knit Sweaters are what the fashion industry calls "Full Fashion Knits". That means they require very little cutting and sewing. There's essentially no cutting waste.
Organic? Of course...
We opted for 100% Organic Cotton yarn for our new collection. Using 100% Organic Cotton is fairly uncommon because many sweaters are blended with synthetics. By opting for Organic Cotton, we reduced our average carbon emissions by 21% and our water usage by 87% across the entire collection.
High Quality, Low Waste
By opting for Organic Cotton, we reduced our average carbon emissions by 21% and our water usage by 87%
Ethically Produced
Our factory partners not only honor the artisanal heritage of Peruvian sweater making, but they are Fair Trade Peru certified, pay garment workers a living wage, and offer health care insurance and retirement benefits. 
The Highest Quality
These sweaters were made to last. Not only did we use 100% Organic Cotton, we drilled down on every detail to ensure we were delivering the highest quality knit sweater. We opted for hand carved tagua nut buttons made from palm trees in Peru and hand-carved from villages in the Peruvian mountains. All of the attention to detail compliments the artisanal craftsmanship of the knitting. 
Our Dress Clean mission is always our ultimate goal: Organic essentials. Clean from seed to skin. We always strive to create products with people and planet as our key stakeholders. This collection is no exception.
Shop our New Organic Knit Sweater collection here.