Kristine Lo's First Beach Cleanup with MATE x OSEA x HEAL THE BAY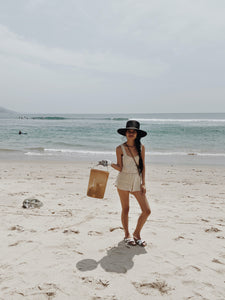 I've lived in Los Angeles for most of my life and was lucky enough to live a few blocks from Santa Monica beach for over 6+ years. As much as I love being near the water, I've always noticed how much trash there was at the beach, but regrettably never did anything about it until I participated in my first beach clean-up hosted by MATE. 
I arrived at Surfrider Beach in Malibu ready to pick up trash and connect with fellow MATEs. The experience was beyond what I had anticipated. I learned so much, felt more connected to mother earth, and was reminded of the importance of community. Not to mention, I had a chance to experience my favorite conscious brands IRL.
We started the morning with a beach clean-up led by Heal the Bay. Heal the Bay is an environmental non-profit making the coastal waters and watersheds in Greater Los Angeles safe, healthy, and clean. Their mission is to share education, science, community action, and advocacy.
Within 20 minutes, my friend and I collected around 0.5lb of plastics, cigarette butts, paper, and stuff that just should not be at the beach. Seeing the amount of trash polluting our beautiful earth can be quite upsetting. But knowing we can make an individual difference just by volunteering our time was a great feeling. As a group, we collectively picked up 60 lbs of trash in less than an hour! 
When it comes to being more mindful of our impact, MATE's invitation to dress clean is one step towards sustainability. Wearing cute 100% organic cotton and linens that are good for you and the earth is a plus. When it comes to living more consciously, you can start to become aware of the impact our actions can have on the environment. I often struggle with feeling like I don't do enough. Hence the guilt I felt never participating in more environmental cleanups until recently. When I feel the weight of the negative state of the environment or feel really bad about not being a better earth advocate, I am reminded that small actions count towards creating a big impact.
I believe that sustainability must also consider our well-being. Caring for our mental and emotional state is essential to better serve others and commit to our sustainability efforts. After the beach clean-up, we experienced the most nourishing guided meditation, yoga, and sound bath immersion by the ocean. Our guided meditation and yoga flow was led by One Down Dog teachers. We practiced a gentle yoga flow sequence while hearing birds overhead and the ocean waves as we moved mindfully. The dreamy experience ended with a relaxing sound bath by the lovely Suzy @thecoppervessel.
I'm so grateful to experience this IRL event which brought together 50 conscious influencers and sustainability advocates for a day of volunteering, meditation, yoga, sound bath, and nourishing lunch. I also really appreciated that MATE partnered with sustainable brands to bring this experience together.
Osea is a brand that I have loved and supported for years. The OSEA team offered mini hand and neck facials. I tried their Salt of the Earth Body Scrub and Atmosphere Protection Cream. I was also excited to learn that both MATE and Osea were Certified Climate Neutral this year. I've known the founders and teams for years and it was an honor to attend and see their intention to bring their communities together in a meaningful way (while complying with LA Covid regulations). A beach clean-up, wellness immersion, and lunch was the perfect way to reconnect in person after the past year. Most of the attendees I met mentioned how grateful we were to connect IRL.

Our plant-based lunch catered by Heirloom LA was so delicious. They use locally sourced food and donate any leftover waste to TerraCycle. Not to mention, our gift bags were made with organic cotton and our Sora yoga towels were made with recycled post-consumer plastic.
What I learned
Heal the Bay shared with us that most of the trash at the beach is washed in from rivers, streams, and gutters all over Los Angeles. It's not just trash people leave behind so we must not litter because it will drain to our beaches. 
Connecting in person is such a gift during these times. This past year has impacted so many of us mentally and emotionally. So you are not alone! Cherish and be grateful for every opportunity we can have to connect IRL.
Remember to nourish your well-being.

Practice progress over perfection. Taking one small step towards sustainability can create a significant impact over time. 
Some simple yet impactful ways to start your sustainable journey is to:
Dress Clean
Shop conscious brands like MATE & Osea 
Sign up for environmental advocacy organizations like Heal the Bay
My biggest takeaway is to be mindful about how we collectively consume and impact the earth but to remember to also nourish our well-being. 
Kristine Lo is a Creative Director of NATURE AND INTENT, Photographer, and Mindfulness Guide currently based in Ojai, California. Her intention is to inspire conscious ways of being through creativity, mindfulness, and conscious living. View her work at www.kristinelo.com and follow her Instagram @kristine.lo and @natureandintent.
Kristine is wearing Linen Crop Top and Linen Shorts in XS. She is 5'7.