MATE Styles That Will Sell Out This Holiday Season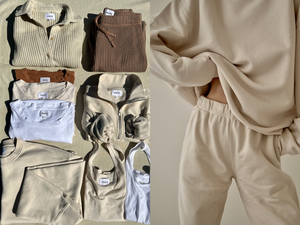 Cozy season is *officially* here. Whether your ideal day is snuggling by the fire or venturing out into the snow, these non-toxic MATE sets will keep you warm all winter long.
Don't be left out in the cold. Shop (& gift) these Best Sellers before they sell out (again)!
MATE's Best Selling Organic Fleece
Organic Fleece Oversized Sweatshirt ~ There's a reason this is MATE's #1 bestseller. Made with GOTS-certified Organic Cotton, this sweatshirt is super soft and warm with an oversized fit, giving it the perfect off-duty look. It comes in 9 (!) different colors, perfect for gifting everyone on your list (including yourself).

Pair it with
Fleece Relaxed Pocket Sweatpant ~ Make it a set - Pair your Organic Fleece Oversized Sweatshirt with these coordinating sweatpants. The drawcord waist and cinched leg cuffs give these pants a relaxed fit, perfect for everything from holiday shopping to hot chocolate and chill nights. The high-quality Organic Cotton fabric will keep you warm and comes in over 10 different colors. Also, did I mention? It has pockets!
Organic Fleece Half-Zip Sweatshirt ~ After launching last year, the Organic Fleece pieces have quickly become a cult favorite. The Fleece Half-Zip Sweatshirt features a zip collar and ribbed cuffs, and can be worn oversized for layering. The Organic Cotton is a heavier fleece fabric, making this a cold-weather staple. 
Pair it with 
Organic Fleece Wide Leg Pant ~ The Organic Fleece Wide Leg Pant features a flattering high-rise waist with a drawcord inside for easy adjusting. The front patch pockets add personality - and function - along with a bonus back pocket. The sleek look makes this set perfect for holiday errands and travel (and the required nap after!). Check out the limited edition colors before they're gone.  
MATE's Cozy Sweater Edit
Alpaca Classic Crew Sweater ~ Alpaca is *the* fabric of the season. You'll be the best-dressed family member at all the holiday events in this Alpaca Classic Crew Sweater, made in a Fair Trade factory in Peru. The fabric is a mixture of a soft blend of undyed and unbleached Superfine Alpaca and Organic locally-grown Cotton. The Alpaca fiber is processed without oil or lanolin, making it hypoallergenic! 
(p.s., the Alpacas are treated with the utmost care. They are gently sheared once a year, keeping them cool during the summer months and preventing their risk for infections and diseases.)
Alpaca Sweater Pant ~ Complete your look with the Alpaca Sweater Pant. Responsibly made from the same fabric as the Alpaca Classic Crew Sweater, these pants are sure to keep you cozy all season long. They have a relaxed fit throughout and feature a functional drawcord (anyone else wearing this for Thanksgiving?). The classic colors elevate this set and make them a capsule wardrobe essential. 
Organic Knit Crew Sweater ~ The perfect chunky knit sweater to channel 90s movies in the fall vibes. The slightly cropped length along with the ribbed detailing on the neckline, sleeves and waist add give it a modern look, complimenting the slouchy fit. This sweater is made in a Fair Trade factory in Peru from 100% Organic locally-grown Cotton, making it warm yet still breathable - what more could you want from a sweater?
Clean Activewear Made With Organic Cotton
Organic Stretch Sports Bra ~ Athletic wear is notorious for being toxic. Luckily, this Organic Cotton-based Sports Bra is a clean-choice alternative to all those fast fashion synthetics. The fabric is double-layered and unpadded and provides ultimate coverage and support for all of your workouts. Ditch the microplastics and support your health in this sustainable piece. 
Pair it with
Organic Stretch Pocket Legging ~ Make it a set with these Organic Stretch Pocket Leggings. The high-waisted rise is ultra-flattering, and pairs so well with the Organic Stretch Sports Bra. The side pockets make these an essential from workouts and beyond. The Organic Cotton fabric is stretchy and breathable, while still providing coverage and support during your active lifestyle. 
Complete your outfit
Organic Cotton Socks ~ The gym girlies know the importance of find the *perfect* scrunch sock. Finish off your clean-choice Organic Stretch Sports Bra and Leggings look with these Organic Cotton socks and go from the gym to lounging, comfy and non-toxic!
Lydia Dupree is a biochemist and author of peer-reviewed articles in her field. She dives deep into the literature to explore the impact the fashion industry has on our health and environment, and shows how to easily implement sustainable fashion into our lives. Connect with Lydia via her website or Instagram page.