Q&A With Nadya Okamoto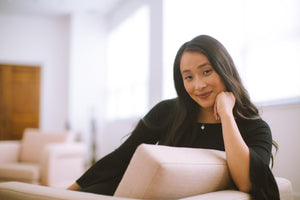 Nadya Okamoto is a 22-year-old Harvard student. In early 2020, Okamoto co-founded August, a lifestyle brand working to reimagine periods. As the Today Show describes, "August is a growing online community aiming to 're-imagine and redefine the period experience to be powerful and dignified,' with members who engage in conversations about how to properly use menstrual cups or what it's like to be a transgender man having a period, for example." 
Nadya Okamoto is also the Founder of PERIOD (period.org), an organization fighting to end period poverty and stigma that she founded at the age of 16. Under her leadership as Executive Director for five years, PERIOD addressed over 1.5 million periods and registered over 800 campus chapters in all 50 states and 50 other countries. In 2017, Nadya ran for public office in Cambridge, MA at age 19—at the time, the time, becoming the youngest Asian American to run. In 2018, Nadya published her debut book, Period Power: A Manifesto for the Menstrual Movement with publisher Simon & Schuster, which made the Kirkus Reviews list for Best Young Adult Nonfiction of 2018. Nadya is also the former Chief Brand Officer and current Board Member of JUV Consulting, a Generation Z marketing agency based in NYC. She has been recognized on the lists of Forbes 30 under 30, Bloomberg 50 "Ones to Watch" and People Magazine's Women Changing the World. 
You are the Founder and Executive Director of PERIOD, the largest youth-run women's health NGO. Can you tell us how and why you started this organization?
I'm the founder and former Executive Director of PERIOD, a global organization fighting to end period poverty and stigma through service, education, and advocacy.
I co-founded PERIOD in 2014 with a good friend, Vincent Forand, after learning about period poverty and the fact that, at the time, 40 states still had the tampon tax. We started by mobilizing in our local area of Portland, Oregon and by creating opportunities for others to get involved. I led the organization as Executive Director until January of 2020 and, in that timeframe, PERIOD addressed over 1.5 million periods and registered over 800 campus chapters in all 50 states and 50 other countries under my leadership.
What challenges did you face as you were first pioneering this organization at the age of 16 years old? Why do you think the voices of young people are so powerful?
A huge challenge for me, especially at the beginning, was learning to delegate and trust others. I had to learn that PERIOD wasn't just my vision, it was my team's vision. And everyday I had to wake up and set myself up for the day of work by reminding myself how little I knew, and how much I needed to watch and learn from others. There were also definitely people that thought I was too young or naive to address period poverty and start PERIOD, but I was determined to prove the naysayers wrong and have always had my family, PERIOD team, and close friends to support me!
Young voices are incredibly powerful because we are bold, passionate, and engaged in building something bigger than ourselves!
What can we be doing to help end the period stigma in our communities?
I think it's very important to first understand that period poverty isn't just a "women's issue"—one may be nonbinary or trans but still experience menstruation. This is a human issue and it affects us all. It is 2020, and yet period-related pain is a leading cause of absenteeism amongst girls in school and periods are the number one reason why girls miss school in developing countries. Twenty percent of teens have struggled to afford period products, 84% of teens have either missed or know someone who has missed school due to period poverty, and 60% of people of all genders believe that period stigma continues to persist. In the first city-wide study on period poverty, 46% of low-income women had to choose between a meal and period products. Periods make human life possible. Yet basic menstrual hygiene is still, to this day, thought of as a luxury.
What does feminism in this day and age mean to you?
To me, feminism is a synonym for gender equality.
You are a graduating senior at Harvard University. What advice would you give women who are juggling their education and their careers?
Balancing school/work/life is doable, but it means you have to prioritize and make sacrifices. For me, I don't have the typical college life of lots of socializing and studying abroad opportunities. For me, work comes first. I have the privilege of being able to prioritize my entrepreneurial passion. And that means I have to accept not really having a college social life. I've had to quit a lot of the clubs that I am not able to have time for, but it's wonderful because I am really passionate about and committed to my work. It's just about making really tough decisions to make sure that you are prioritizing well, and also prioritizing your own health and long-term sustainability of the energy you have. Also, btw, I am TOTALLY still working on this. Balance is still hard for me, and I am really continuing to learn more about how to prioritize every day!
Lastly, what's in store for the future of PERIOD & where can readers follow along with your work?
I stepped down in January and am no longer involved with PERIOD, but you can reach out to Michela Bedard (michela@period.org) who is the current Executive Director of PERIOD. In other big news, August just launched—the new venture I've been working on all year!! 
My current focus: @itsaugust
August in the Today Show!
Instagram, Twitter, TikTok: @nadyaokamoto
Website: 
Nadyaokamoto.com