MATE x Parachute: A Convo with Founders Kayti O'Connell Carr & Ariel Kaye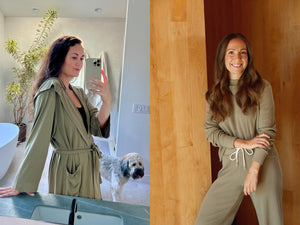 Kayti is wearing the Tencel Hooded Robe in Surplus, and Ariel is wearing the Organic Thermal Boxy Crop + Wide Leg Pant in Surplus.
Living well and being comfy at home is important to us, important to our friends at Parachute and probably a big reason as to why you're a MATE. Keep scrolling for some words from Kayti and Ariel.
Tell us a little bit about yourselves. How did you each get started in your respective industries?
Kayti: It's been quite the journey growing this brand to say the least! I started by selling vintage t-shirts as a side hustle while working a full time job. (Watch our video on how MATE got started here.) I pivoted from selling solely vintage to making vintage inspired graphic t-shirts in Los Angeles. In the early days, I spent most of my time living at LA factories learning the ins and outs of apparel manufacturing. I did not have any prior experience in fashion so every step has been a major learning experience. I am very grateful that I was able to see firsthand what goes on behind the scenes at factories and dye houses as it helped shape our brand values and made me realize how important it is to use clean materials and dyes for the sake of everyone involved.
Ariel: Ten years ago, I was ready to make a career change. I had been working in advertising at a big digital agency, but was simultaneously spending a lot of time helping friends and family decorate their homes and apartments. In my experience shopping for myself and friends, I noticed that when it came to home textiles there was absolutely nothing on the market that was high quality and affordable, and even more surprising to me, was that there were no identifiable brands. Most people associated these products with a store that they purchased from - and also felt disappointed by the optionality or differentiation within the assortment.

I had a quintessential a ha moment, there was a huge opportunity to build a real brand that connected with today's modern shopper. A brand that could inspire and educate customers, while simultaneously adding real value to their lifestyle at home. This felt like the perfect moment to merge my interest in building brands, and passion for home and design and build a category defining brand focused on building a premium customer experience.

In 2014, I launched Parachute as the first digitally native, direct-to-consumer bedding brand. The vision was always to evolve into a multi-category brand with products that touch every room of the home. And we have! We have since expanded our product offerings to include furniture, a mattress, bath, rugs, tabletop, nursery, decor and of course, Loungewear. In 2016 we opened our first brick-and-mortar store in Venice, Calif.; we now have 20 stores nationwide, with many more to come.
You both have a lot in common; LA originated, sustainably-made, and female founded. What advice would you give to other female entrepreneurs?
Kayti: My biggest piece of advice is to focus on what differentiates your brand from the rest - no one needs another t-shirt brand, so constantly ask yourself, what value are you adding to people's lives? Also, being a founder can be extremely isolating, it's important to find your support system and surround yourself with other entrepreneurs that are going through the same challenges. 
Ariel: Build a community of other founders and mentors. I found that people were so generous with their time. Know what you are good at and where you need support. And then get it! You have to be your own biggest advocate and be relentless in your determination - get out of your comfort zone.
What is the intention behind the MATE x Parachute collaboration? Why did you choose to partner with one another?
Kayti: I've been an admirer of Parachute for a long time and couldn't think of a better partner to collaborate with! We share similar values and aesthetic, but most importantly, we both understand that being comfortable at home is essential to living well. 
Ariel: I have been a fan of MATE, both the quality and the mission, for many years. As like-minded brands who are both in the business of developing comfortable and sustainable products, collaborating felt like a natural fit. We loved learning more about loungewear design from the MATE team and sharing our color palette to create a really beautiful capsule collection. 
"We loved learning more about loungewear design from the MATE team and sharing our color palette to create a really beautiful capsule collection." - Ariel Kaye, Founder of Parachute Home
How would you define your brand ethos?
Kayti: MATE is on a mission to clean up the fashion industry one garment at a time. The industry is highly toxic to human health as well as being detrimental to our environment. We instituted the "MATE 8," which identifies our core brand pillars: Clean, Essential, Organic, Ethical, Women-centered, Plastic-free, Circular, and Local. Our Dress Clean initiative is our guiding light and how we make decisions as a brand.
Ariel: Home is the most comforting word there is. That's why they say there's no place like it. The unmistakable feeling of home is what inspired us to create Parachute. To responsibly make essential, lasting items that transform a house into so much more. At Parachute we value comfort, quality, responsibility and community. 
Tell us about your sustainability commitments. Any upcoming projects you're excited about?
Kayti: At MATE, it's very important for us to back up our efforts with data and to set firm parameters around our own definition of what sustainability means to us as it's not clearly defined in the industry. We undergo LCAs or Life Cycle Assessments for every product that calculates their water, carbon, and chemistry impact. We also have a strict Code of Conduct for all manufacturing partners. With these in place, we are laser focused on how to provide our customers with the cleanest clothing possible from seed to skin.
We have a lot of exciting projects in the pipeline! One that I am super excited about is being a part of the California Cotton Climate Coalition - We are working with a cohort of brands to grow climate beneficial cotton in Central California…more on that soon!
Ariel: At the start of 2022 we outlined our sustainability commitments including becoming climate neutral, improving our packaging, launching an organic collection and launching fair trade certified products. This is just a start.
I'm most excited to see how our team has pulled together to learn more about sustainability and continues to dive into projects that will benefit people and the environment.
Ariel, thank you for chatting with us today. Is there anything exciting in store for the rest of the year? Where can readers follow along with your work?
Ariel: We have a very exciting category launch coming up soon – expanding on our furniture collection. I can't wait for people to experience the full Parachute home. We are also continuing to open more retail stores across the country. We'll have 25 by the end of the year.
Readers can check out the Parachute blog for updates on category launches, design inspiration and a deep dive into how our essentials are made. We also have a beautiful Instagram @parachutehome and for a mix of Parachute and my family life with two young kids, I can be found at @arielkaye.
MATE x Parachute is a limited edition collection of super sustainable, super comfy loungewear in exclusive colors and styles. Shop the capsule collection here.