Q&A with Founders of AVRE Sustainable Sneakers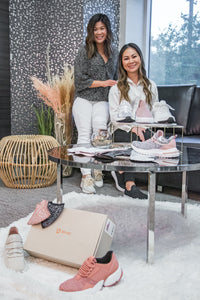 Julie and Connie, can you tell us a little bit about yourselves and how you started AVRE? Where did the name 'AVRE' originate from?

Connie and I are daughters of immigrant parents who came to the U.S. to find a better life and provide more opportunities for themselves and their children. They left all they knew to come here knowing that the road would be very lonely and difficult but the possibilities were endless. Being there to witness the struggles as well as the successes my parents were able to achieve is very inspiring. They were able to build a two-person operation into a global business which showed us that anything is possible. You can say that footwear is in our family's DNA. Connie and I joined the company after we both respectively graduated college. I saw how much my parents sacrificed to build their dream and I wanted to be a part of growing their legacy.

The idea of AVRE came about a couple years ago. Around this time, climate change and global warming, waste, and pollution were all hot button issues. We began to learn about how the manufacturing process and materials all led to insurmountable amounts of waste and carbon dioxide. We were compelled to think outside the box and to introduce a different way of doing things. Footwear is our passion but we understood that we needed to do better to help our planet and our community. We should and we could do better.
Becoming a mother also pushed me to be more aware of wanting to create a better world for my girls. At the same time, the Me Too Movement was happening. Being two strong independent women, this message really resonated with us. We have always been taught to celebrate our strength and individuality and we wanted to create something that shared these same values that we believe in.
"AVRE was born out of a necessity to transform the industry with the inspiration to pursue a sustainable footwear brand for the empowered women. AVRE celebrates all women."

What was it like starting a company with your family?

Starting a company in general is never easy. Starting a company with your family can be complicated and can have its ups and downs as we may not always agree on how things should be done. But having the same end goal and vision and knowing that regardless of what happens, my family always has our best interests at heart, there is no one else. My sister and I are opposites and approach things with different colored glasses. But that's what is great about AVRE. We have different perspectives and blending both is what achieves greatness.

Can you tell us more about the sustainable materials found in AVRE sneakers?

We are always striving to be more sustainable with the purpose to Recycle, Reduce, Reuse. Groundbreaking materials and practices are the driving force behind AVRE. Our 3d Knit-To-Shape technology drastically reduces waste by creating precise sizes and eliminating the creation of scraps.

Billions of plastic bottles go into landfills every year. We partnered with REPREVE®, one of the most certified, traceable fibers available in the world to show our commitment to this solving this problem.

For each AVRE shoe, recycled plastics from 8-10 recycled P.E.T water bottles are taken, washed, and chopped into tiny pieces and melted and reshaped into yarn. From there, the shoes are knitted with these signature materials and created using verifiable REPREVE® recycled polyester yarn by UNIFI®.

These innovative materials have moisture wicking-properties and provide enhanced flexibility, creating more freedom of movement for the ultimate comfort. By using recycled threads, we are able to create footwear with 45% less energy use, 20% less water consumption, and ultimately less emissions and aid in protecting the ocean, decrease waste in landfills, and assist in improving air quality.

How does the fashion side of your business set you apart from other sneaker companies?

We believe that footwear is an extension of a woman's beauty and self-expression. We strive for the ultimate goal of a zero-waste future without compromising design and comfort. We design elevated, modern yet responsible and sustainable footwear for the empowered women of today. 

AVRE was created for the modern women today. She is a person who wears many hats and must be ready for anything and everything. Some of us, like myself, have to juggle being a mom, wife, and boss and more. We want to have something that can keep up with us. Our shoes allow you to go to the gym, drop kids off, step right into a boardroom meeting, to a business lunch, on and on.

Our shoes offer the versatility, elegance, as well as comfort. Then you throw in the fact that they are sustainable, it's just a win/win all around

What difficulties did you face while starting AVRE?

Starting a new business requires having a strong foundation and team to execute your vision. Being able to find people that have the experience, the same thinking, and drive to achieve your goals is one of—if not the most difficult—parts. We also had the unfortunate timing of launching right around Covid. We are a business-to-consumer footwear business and having to operate and run during a pandemic definitely had its challenges. The shutdowns and limitations in social activities, as well as people's mindsets and their ability to purchase nonessential items, had a major impact. With social gatherings not being allowed as well as people limiting contact in order to stay safe, some of the activities and initiatives we had planned to build brand visibility had to be postponed. We've had to rely heavily on social media and organic growth with audiences falling in love with the message and our designs once they've received the shoes.

What advice would you give to female entrepreneurs?

For anyone looking to break into this world, I always want to be honest about the focus and passion that it requires. Know your purpose. Do not get discouraged by outside factors, or other people's opinion. Business is about going through cycles, where you have to be flexible and be open to keep pivoting. If something is not working, don't be afraid to break your pattern and change. You must remind yourself to continue to push through and be accepting to try new approaches until you hit a breakthrough. The breakthrough will come as long as you don't become stagnant.

Also, don't be afraid to surround yourself with people that are better than you are. Knowledge is power. Surrounding yourself with people who can give you insight and guidance will only help you grow.

How are you using your brand and platform to advocate for female empowerment?

AVRE is committed to being mindful of all the ways to promote women supporting women and merging that path with an eco-friendly lifestyle.

AVRE was born out of necessity to transform the industry with the inspiration to pursue a sustainable footwear brand for the empowered woman. Celebrating a woman's strength and individuality is why we created AVRE. We wanted all women to feel empowered and authentic in their own skin. Our shoes provide beauty, comfort, individuality for the "it girl", "mom-on-the-go", "boss lady" and everyone in between. She wants to look good, feel good and also know she's doing good for the planet.

AVRE was created to give back to our planet and our community. We have created a community that celebrates inclusivity, sustainability, and empowerment. All women are AVRE (Authentic, Versatile, Responsible, Empowered) in some shape or form.

We have championed social causes and charities to give back and help to make a difference in people's lives donating our proceeds to Oceana, Equality now, AAPI Community Fund and Girls in Tech. We are all about making a difference, leaving a positive impact on others and our planet.

How can the shoe industry support AAPI inclusion?

We can support AAPI inclusion by using our platforms to raise awareness against racism in the AAPI community as well as to support the Asian-American people and businesses that are suffering. Also celebrating and highlighting the contributions that AAPI individuals have made to each community will allow us to all come together and create change.