MATE Team's Cozy Picks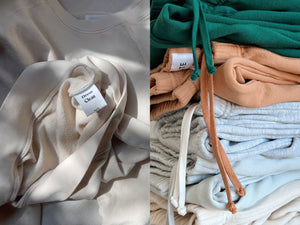 The MATE team is all about that comfy, cozy lifestyle. From WFH fits to date night; here are our fave styles we'll be living in all season long.
Kayti's Cozy Pick: Organic Terry Oversized V-Sweatshirt
"This sweatshirt is definitely my new go-to. Instantly cozy. Perfect lightweight (and 100% Organic) fabric. You'll find me loungin' in this all season long."
Tyler's Cozy Pick: Men's Fleece Hoodie
"My favorite MATE product is the Men's Fleece Hoodie. It's perfect for dog walks, surf checks, and date night. I love how I can match it with any outfit and it really elevates the hoodie look."
Geneva's Cozy Pick: Organic Knit Crew Sweater
"Love how this sweater keeps me looking cool and feeling warm on crisp autumn days. The craftsmanship makes the sweater feel luxe but I can wear it casually too!"
Emily's Cozy Pick: Organic Cotton Classic Tee
"I love our classic tee because it can be worn alone or as a layering piece and it's so soft and cozy. I'm obsessed with our new Oyster color. The perfect neutral that can be paired back to anything."
Britta's Cozy Pick: Oversized Fleece Sweatshirt & Fleece Relaxed Pocket Sweatpant
"My fleece set is always my go-to. Love it in the Oyster color!"