Your CBD Questions Answered by the Founders of Juna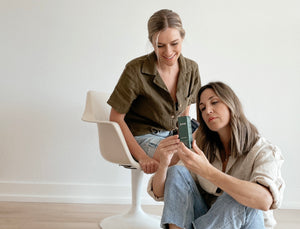 Jewel Zimmer & Taylor Lamb are the founders of Juna. 
Tell us a little about Juna and your mission:
Juna offers the most effective plant-powered solutions to optimize mind, body, mood, and sleep. 

The "do-it-all" generation of women are experiencing sensory and schedule overload like never before. The result—anxiety is the #1 leading mental health disorder in America, 55% are stressed,  1 in 4 have insomnia symptoms, increases in hormone imbalances, increases in infertility, overstimulation, and lack of sex drive. 

Our targeted, science-backed, plant-powered formulas help your body reset, rebalance, and help women become more resilient to their unique stressors so they can show up as their best self. 
"Anxiety is the #1 leading mental health disorder in America, 55% are stressed,  1 in 4 have insomnia symptoms, increases in hormone imbalances, increases in infertility, overstimulation, and lack of sex drive." 
Can you tell us a little about Juna's ingredients and environmental Impact ?Juna incorporates over 20+ active botanicals to create targeted daily drops to combat stress and anxiety, boost mood, and help you sleep better.  We take a holistic approach to formulation and source the highest quality, functional botanicals.
All of Juna's formulas are 100% proprietary and developed by our team of female herbalists, chemists, and founder/chef/sommelier. All our ingredients are organic and sun-grown with regenerative farming practices that sequester carbon from the atmosphere and help reverse climate change. They are non gmo, free of heavy metals, microbiological and bacterial contaminants, pesticides, volatile organic compounds, and 100% biodegradable.

What inspired you to start Juna and what did your journey look like leading up to it? 
Women everywhere are juggling more than ever before and it's causing increased levels of stress, anxiety, tiredness, overwhelm, and mood imbalance. As female founders and mothers, we experienced this firsthand and true necessity led us to the creation of Juna because we ultimately were looking for relief but didn't want to turn to prescriptions and pharmaceuticals. 
With so many herbal remedies available, what advice do you have for someone just starting out? What should they consider when buying? 
There are so many herbal and cbd products available ranging from $10-$200+ but it's important to know that not all formulas are created equal. You have to be careful with what you are putting in your body. We always advise people to find an organic brand they resonate with (hopefully Juna 😊). Make sure the brand offers education, full transparency and traceability of ingredients and processes on their product label and website. This ensures quality and efficacy. At Juna, we additionally include a COA (certificate of analysis) that shows the potency and purity of the product verified by a 3rd party lab. Last but not least, with CBD products you should always look for Full Spectrum CBD vs Isolate or Broad Spectrum. This ensures the product retains its full spectrum of phyto-actives in every drop…a.k.a. they will work!
How did you come up with the name for your business?
Naming is such a rewarding process and we went through hundreds before choosing Juna. We were inspired by Juno, the goddess of feminine vitality and life.
What is your superpower?
Jewel: I would say I'm a collector of information and at the exact time I need it, I am able to harvest it. Whether it's science, a formulation, a recipe, a phone number, or a contact made in another life. Ultimately, this collection of information has brought me to this specific point in time in my life.
Taylor: Maybe it's from my Gemini sign, but I think I'm great at seeing things from multiple and different perspectives which really helps when creating a customer-focused brand. I use this skill along with the data I am able to collect to help make clear decisions for the business. I am also undefeated in ping pong!
If you had to create a perfectly planned at-home self-care day, what would it look like?
As mothers, it's hard to imagine that "the" perfect self-care day could be at home! While being in quarantine with our families and having endless to-do lists, it's really hard to find any alone time, let alone plan a self-care day. We joke around all the time that in order to get some alone time we grab a glass of wine, some Juna, and retreat to the bathroom where we can lock the door and enjoy a quick bath! 
This is one of the reasons why so many women (including us) have been turning to Juna's Balance drops during quarantine. During the days we are taking on the role of mother, teacher, business owner, conflict negotiator, chef, camp counselor, barista, wife, fun/activity manager, housekeeper, friend, and screen regulator. It's overwhelming to say the least and we are all looking for some balance and relief to keep our sanity. Our Balance drops are a daily defense against this overwhelm and can help lift your mood and keep you calmly-focused throughout the (crazy) rhythms of the day. 
What are some of your favorite botanical ingredients to work with?
While there are an infinite number of botanicals we love to work with, some of our favorite herbs and flowers are chamomile, mint, and lemon balm.  All 3 of these are incredibly supportive and calming to the senses. All Botanicals are made up of naturally occurring terpenes which are the foundation of every essential oil and otherwise known as the flavor, aroma, and mood molecules. These powerful molecules have incredible aromatic and mood shifting properties to change how the body responds to environmental  stressors.  Hemp is a very powerful botanical not only for its mood balancing effects (CBD) but it's also a potent antioxidant and source of omegas for the skin and body. 
What advice do you have for other women who may want to start a business in herbal wellness?
Our advice would be to make sure your product A. solves a clear problem/need, B. truly is effective and can enhance someone's life, C. can fit into your customer's routine, and D. that your brand resonates with a specific target demographic. This is the formula we follow when developing new products and new product categories. When it comes to branding and brand voice, we always aim to be authentic and honest. Since we are both within Juna's target demographic, it makes it a bit easier to always step back and ask ourselves if it resonates with us on an emotional level. Did we laugh, learn, or connect with it? And ultimately, is it something we would want to share with our friends?