Benefits of Organic Cotton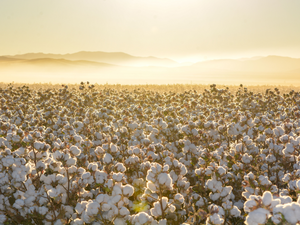 Organic cotton production is on the rise in fashion - what's all the hype about?
Cotton is the second most widely used fabric in the world, averaging at about 22% of the global fiber production in 2021. Organic cotton production, specifically, had an estimated 37% growth in 2021 - making it the fifth year in a row that global Organic cotton production has increased.
Why is Organic cotton production on the rise? Let's discuss. 
What is the Difference Between Conventional and Organic Cotton?
As cotton is a plant-based fiber, it is inherently renewable and biodegradable. However, how cotton is grown can directly impact the health of our Earth.
You may have heard of conventionally-grown cotton being coined as the "world's dirtiest crop". This is due to the fact that it is a pesticide-intensive crop. In fact, conventional cotton production consumes 16% of all the insecticides worldwide - more than any other crop. (Note: throughout this article anything non-organic will be referred to as "conventional")
Conventional cotton production consumes 16% of all the insecticides worldwide - more than any other crop.
These synthetic insecticides have been linked to numerous health implications. According to the Soil Association, "Pesticide use leads to indebtedness, chronic ill-health and even death among cotton farmers in the world's poorest countries". Some of the health risks synthetic pesticides have been linked to include cancer, hormone system disruption, decreased fertility, birth defects, and weakened immune systems.
Pesticide use leads to indebtedness, chronic ill-health and even death among cotton farmers in the world's poorest countries.
In the US specifically, eight of the top 10 synthetic pesticides most commonly used on conventionally-grown cotton were classified as moderately to highly hazardous by the World Health Organization. (Did you know? MATE garments are free from pesticides!)

Organic cotton, on the other hand, is produced using farming techniques that work with the earth instead of trying to control it, without the use of artificial fertilizers, hazardous synthetic pesticides, and genetically modified organisms (GMOs) (think of it as similar to that of Organic produce).
What Makes Cotton "Organic"?
For cotton to be certifiably "Organic", it can be verified by the following two regulations:
Farm-level certifications: The farming process follows principles set by third parties in order to be certifiably marketed as such. For example, the International Federation of Organic Agriculture Movements (IFOAM - Organics International) follows standards endorsed as organic by the Organic Movement (organizations and individuals involved worldwide in the promotion of Organic farming). The standards include the principles of sustaining planetary health, working with the natural ecology of the land, fairness of everyone involved in the agriculture process from farmers to consumers, and protecting the land for generations to come. Farmers must maintain records of their Organic farming methods and are subject to annual testing. 
Supply chain certifications: Third-party certifications involved in the supply chain, such as the Organic Content Standard (OCS) and the Global Organic Textile Standard (GOTS), verify that cotton is Organic as it moves from fiber to product. Facilities can apply to be certified by OCS or GOTS. GOTS-certified operators and wholesalers must adhere to certain environmental standards (including the IFOAM standards) and undergo annual inspections to maintain their certification. (p.s., MATE uses GOTS-certified Organic cotton)
What are the Benefits of Organic Cotton?
Just as research points to the health benefits of eating organically grown food, Organic cotton poses health and environmental benefits as it eliminates the synthetic, toxic chemicals used in conventional farming.
Organic cotton poses health and environmental benefits as it eliminates the synthetic, toxic chemicals used in conventional farming.
Health Benefits
Healthier for Farmers:
The active ingredients of synthetic pesticides that can kill harmful organisms can also be hazardous to the farmers directly caring for the crops, especially when they do not receive adequate protective measures and training, as is many times the case in developing countries. Removing the use of synthetic toxins as is done in Organic cotton production therefore provides a safer working environment for farmers. 
In addition, as Organic farming improves the overall health of the land, it can result in higher crop yields, resulting in an increased standard of living for the farmers. 
Healthier for Consumers: 
Organic cotton is free from the harmful chemicals in conventional cotton that can be absorbed by the skin upon wear. This can be especially beneficial for those with chemical sensitivities or skin conditions, as it removes the worry of irritation. Organic cotton is also naturally hypoallergenic, removing the risk of allergic reactions to the fabric. It is a naturally breathable and moisture-wicking fabric, making it perfect for exercise and daily movement, as well as sleep, as it allows the body to stay cool. These characteristics also make it a safer fabric option for babies and young children.
In addition, as it is a plant-based fiber, it removes the health implications associated with synthetic textiles such as the presence of endocrine disruptors (like BPA) and PFAS (also known as 'forever chemicals'). Organic cotton production (especially those that are GOTS-certified) also includes the monitoring of dye usage, ensuring factories use non-toxic dyes, thereby removing another harmful chemical from the clothing.
Lastly, Organic cotton is a high-quality fiber meaning that it will last for years to come in your wardrobe, posing a positive benefit both monetarily and lowering the waste pollution associated with frequent clothing disposal.
Environmental Benefits
Decreases Overall Pollution:
Artificial fertilizers and synthetic pesticides can cause environmental pollution in the soil, water and air. For example, they can drift away in waste water from the irrigation systems used in conventional farming methods, contaminating waterways that are sources of drinking water and food for nearby communities and impacting nearby land. Removing this contaminant immediately makes organic cotton farming a cleaner option for the environment.
Increases Soil Health:
Organic cotton farming standards include crop rotation, allowing the soil to rejuvenate between crop yields and allowing for natural nutrient production to be sustained. The use of natural methods for pest management - such as, the use of resistant or tolerant crops and the release of beneficial insects and microorganisms targeting specific pests - also promotes the quality of the soil by maintaining the natural balance of the land. Lastly, the use of Organic fertilizers make the soil more nutrient-rich.
Boosts Carbon Sequestration: 
Organic agriculture has a higher ability to store carbon in the soil, contributing to the mitigation of climate change by reducing atmospheric carbon levels. 
Promotes Biodiversity:
Organic cotton farming promotes biodiversity by supporting the natural ecosystem of the land. It avoids the use of synthetic pesticides that can harm both native plants and animals, sustaining a healthier, more diverse habitat for years to come. 
Reduces Water Usage:
According to the Textile Exchange, Organic cotton production practices can reduce water consumption by as much as 91%. Organic matter (such as nutrients in the soil and natural fertilizers used) naturally retain water, minimizing the additional water usage needed in Organic cotton farming, as compared to intensive irrigation systems used in conventional cotton production. The use of crop rotation also improves water quality as the soil is able to take in nutrients that would otherwise leach off in intensive water usage. 
Organic cotton is not just a trend in sustainable fashion - it is a step toward a healthier future for our Earth and its inhabitants. By choosing to wear Organic cotton, you are supporting not only your own health, but the health of farmers involved in cotton production and the health of our environment. 
Check out MATE's Organic Cotton pieces to support a more ethical and sustainable future for our world.