How Well Do You Know Your Undies?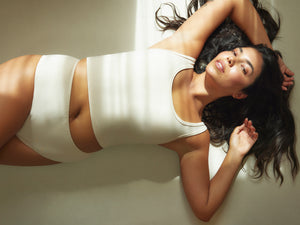 Do you know what your intimates are made of? Chances are it's a fair amount of plastic. Over 60% of all fibers produced are sourced from petrochemicals like polyester and nylon, aka plastic (1).
Wash Cycle
When polyester, nylon, or other synthetic fibers are the primary material used in underwear, they can be a big contributor to microplastic shedding. This is because underwear are a "high wash" item, meaning people usually wash them after every wear. This increased washing leads to microplastic shedding that affects our soil, water, air, and bodies (2,3).
What Does This Really Mean?
If we take an item with a high synthetic content, wash it often, we end up with an increase in microplastic shedding and more plastic in our environment (3).
Into video content? Watch our latest Dirty Talk video where we go into more detail on this here.
But It Doesn't Stop There...
Synthetic underwear can impact your skin as well. Underwear made from synthetic fabrics trap heat and moisture close to your skin which can increase bacterial growth (4,5,6). So what can you do?
Look to Natural Fibers Like Organic Cotton
Natural fibers will still shed microfibers when washed, but these fibers will break down in water and soil much quicker than synthetic fibers. 
Natural fibers are also breathable and absorbent. This allows air flow and reduces the amount of heat and moisture trapped near sensitive areas (4,5,6).
Clean Organic Comfort
At MATE, our intimates are 92% Organic Cotton and 8% Spandex, which is a synthetic fiber. Truthfully, the more natural fiber, the better. Also truthfully, 8% spandex was the lowest amount we could use while still maintaining functionality.
We believe in progress, not perfection. And we're always looking for natural alternatives to spandex. This isn't the end.
Shop our new Intimates Collection here so you can Undress Clean.
Sources:
Preferred Fiber and Materials Market Report - Textile Exchange. 7 June 2021, https://textileexchange.org/preferred-fiber-and-materials-market-report/.

Cox, Kieran D., et al. "Human consumption of microplastics." Environmental science & technology 53.12 (2019): 7068-7074.

Gavigan, Jenna, et al. "Synthetic microfiber emissions to land rival those to waterbodies and are growing." PLoS One 15.9 (2020): e0237839.

"6 Contributors to Bacterial Vaginosis." Mayo Clinic Health System, https://www.mayoclinichealthsystem.org/hometown-health/speaking-of-health/6-contributors-to-bacterial-vaginosis. Accessed 10 Aug. 2022.

(2021), Vaginal Candidiasis (Yeast Infection). Journal of Midwifery & Women's Health, 66: 825-826.

CDC. "Learn More About Vaginal Candidiasis (Vaginal Yeast Infections)." Centers for Disease Control and Prevention, 13 July 2022, https://www.cdc.gov/fungal/diseases/candidiasis/genital/index.html.