Beyond Basics: What makes our Essentials . . . essential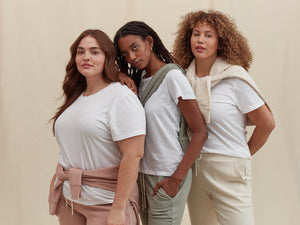 Most people have basic items in their wardrobe—a plain white tee, a little black dress, etc. But MATE Essentials are anything but basic. They create a more sustainable model for the apparel industry and we think that's pretty damn important considering about 85% of all textiles end up in landfill.
Keep reading to see what makes our Essentials more sustainable.
Feel-Good Fabrics
Crazy soft fabric makes the difference between a tee you throw on and a tee you want to wear every.single.day. We take things a step further, using Organic Cotton to make our tees, joggers, and pullovers because it is non-toxic and super comfy. With MATE Essentials, you can feel good that your clothes are free of harmful pesticides, formaldehyde, carcinogens, and endocrine disruptors, plus they won't break down into polluting microplastics.
"Good fabric weight, comfy but not too hot. The cotton feels sturdy, not insanely soft, but nicely spun thread that should last a while without falling apart. Would 100% recommend." - Tara G.
Timeless Style
A true essential is something that you can wear year-round. Our essentials are made in light to medium weight fabrics in an earthy neutral palette. They can be layered up during colder months and look season-appropriate whether it's winter, spring, summer, or fall. 
Detail-Oriented
There's nothing boring about our essentials. Details like a double raw-edge ribbed neckline on our Vintage Boxy Crew, raglan sleeves on our Vintage Pullover, and super soft Organic Cotton Jersey lined pockets on our joggers elevate our styles from basic to essential.
Versatility
Because of their relaxed fit, MATE tees can go from the couch to brunch with a simple knot for a cropped style. Our Classic Jogger and Vintage Pullover are not relegated to the house either. Wear the pullover with your favorite denim or a midi skirt and white sneakers for a cute, casual look. Or go for MATE monochrome and wear the matching jogger pants. The perfect fit and high-quality fabric keep the vibe polished, never sloppy. 
"I have worn my MATE for sleep and for lounge, dressed up with a cute tee for errands. They are equal parts comfortable and classy!" - Jenna D.
Shared Values
MATE is woman-owned and women-led, meaning women come first in all our decisions. It's why we choose organic fabrics that don't mess with our hormones. It's why we work with ethical factories in Los Angeles where many women are employed. Putting women at the center of everything we do makes our goals crystal clear. We want all women to be able to have clean essentials that help them feel comfortable and confident in their skin.