Clean For All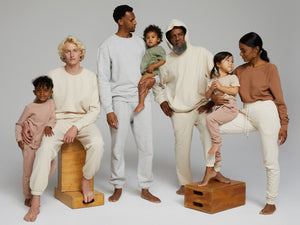 Since the beginning, our MATES have been women of all colors, shapes, and sizes who give a damn about their bodies, their impact, and the world around them. We have always put women at the center of everything we do. But as we look to the future, we know that our Dress Clean® mission has the potential to make an even greater impact. This year, we wanted more people to have access to our essentials. That's why we decided to expand beyond women's apparel. 
Clean For Minis?
Perhaps because our founder, Kayti, was growing her own family this year (congrats to the new momma!), we've been especially family-focused. We launched MINI MATE so that little ones could have Organic, non-toxic fabrics that are not only better for their delicate skin but also better for their future planet. The collection currently includes Girls' and Boys' styles made in the same Organic Cotton and Organic Terry as our Women's styles. We were also super excited to introduce our first onesie for infants.
Clean for Men
Our Men's Collection launched with three premium Fleece styles and a classic Organic Cotton tee to provide the other half of the planet with high-quality, carbon neutral, ethically made essentials. We went all-in on comfort when designing our Men's apparel, keeping the fits relaxed and the fabrics super soft.
How We Define Clean
Consider this: your skin is your largest organ. We're basically walking sponges, so, if your clothes contain chemicals and toxins, they are going straight into your body. Typical clothing manufacturing uses over 8,000 synthetic chemicals. We uphold a strict list of restricted substances to ensure that carcinogens, endocrine disruptors, and other toxins are kept out of our supply chain and off your body. By using Organic materials and non-toxic dyes, both our customers and supply chain MATEs stay safe and protected.
Learn more about The MATE Eight.
These new collections represent a new era for MATE as we continue to grow as a company and community. We're proud to be helping more women, men, and children everywhere get back to the essentials, make sustainable choices, and create long-lasting change in the apparel industry and beyond.