Is Tencel Actually Better for People and the Planet?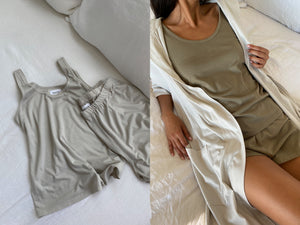 One of the most common questions we receive from the MATE community is whether Tencel is actually better for people and the planet than it's alternatives. We asked our Sustainability Manager Tyler Cobian to break it down for us. Here goes.
Let's start with the basics. What is Tencel?
Tencel (aka, TENCEL™ Lyocell) a fiber commonly used in clothing that utilizes tree fibers. Tencel is a part of a class of fibers known as Man Made Cellulosic Fibers (or MMCFs). Other MMCFs include Modal, Rayon, and Viscose. All MMCFs take cellulose rich material like bamboo, hemp, or trees and process them with a solvent to create spinnable fiber. However, it's important to note the process of creating usable fiber from tree pulp can vary drastically for each type of MMCF.
Why is Tencel's chemical impact safer?

Tencel is a fiber that was created by Lenzing, a material manufacturer in Austria. They source FSC certified wood pulp from Eucalyptus and Beech trees. They then transform this wood pulp into a spinnable fiber by utilizing a solvent. This is the step in the process where Tencel truly shines.
Tencel utilizes NMMO (N-Methylmorpholine N-oxide) as a solvent as opposed to CS2 (carbon disulfide) which is the solvent traditionally used to make rayon. This swap in chemistry represents a large reduction in chemical impact(1). CS2 is a known neuro and reproductive toxin and has led to health risks to manufacturing workers who make rayon(2). Tencel utilizes NMMO as a solvent which is considered a non-toxic alternative to CS23.
Water Savings with Tencel
Another differentiator between Rayon and Tencel is that Tencel is produced in a closed loop process in which 99% of the water and chemicals are recovered for future use(4). Through this closed loop process Tencel is able to reduce greenhouse gas emissions by 62% and water use by 74% compared to Rayon production(5).
In the end, Tencel is able to utilize tree fibers which need no pesticides or irrigation and is able to process those fibers in a closed loop system that utilizes less toxic solvents than conventional Rayon. We'll choose Tencel any day over the others.
Have other burning questions for us to answer? Follow @mate_the_label for more sustainability terms explained, and DM us with other info you want us to break down next time.
Sources: 
Shen, Li, Ernst Worrell, and Martin K. Patel. "Environmental impact assessment of man-made cellulose fibres."

Resources, Conservation and Recycling

55.2 (2010): 260-274.

Chung, Hweemin, et al. "Carbon disulfide exposure estimate and prevalence of chronic diseases after carbon disulfide poisoning-related occupational diseases."

Annals of occupational and environmental medicine

29.1 (2017): 1-12.

Krysztof, Marta, et al. "Regenerated cellulose from N-methylmorpholine N-oxide solutions as a coating agent for paper materials."

Cellulose

25.6 (2018): 3595-3607.